SmileDirectClub
We believe everybody deserves a smile they love. That's why we've made it easier and more affordable to straighten, whiten, and clean your teeth.
How Does SmileDirectClub Work?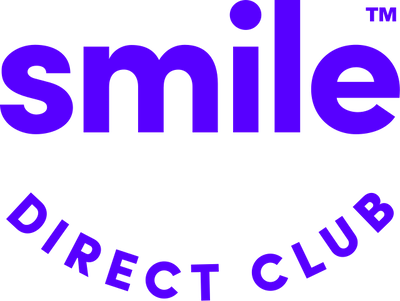 SmileDirectClub corrects your smile using a series of transparent aligners that safely shift your teeth according to your personalized, doctor-directed treatment plan. All your aligners are 100% custom-made in America's largest FDA-approved clear aligner manufacturing facility and each aligner makes slight adjustments to your tooth position. This process is mapped out in advance with our proprietary state-of-the-art Smart Sculpt™ technology and approved and prescribed by an in-house licensed orthodontist.
SmileDirectClub will ship your aligners directly to you within 2-3 weeks, all at once, so you don't have to make monthly office visits. This convenience allows for a clinically safe and effective dental treatment for 60% less than braces or Invisalign with no hidden costs or fees. At SmileDirectClub, they are committed to getting you a smile you cherish for life.
Benefits of SmileDirectClub
Credibility: Delivering better treatment and results with advanced teledentistry.
Convenience: A personalized treatment plan that fits your lifestyle.
Certainty: A smile you'll love for life.
Comfort Sense™: Innovations that make our aligners look and feel better than ever.
Cost: The beautiful smile of your dreams is within your reach.
Three simple steps to get started:
Impression Kit or Records taken by Drs. Mantini? Choose how you want to begin your smile journey.
SmileDirect creates a 3D image of your teeth that lets the orthodontist see what's going on and helps develop and design your personalized treatment plan. Please contact SmileDirect to schedule an appointment with Drs. Ernest & Rocco Mantini for in-person records and photos to be sent to SmileDirect by Dr. Ernest Mantini or Dr. Rocco Mantini.
We create your personalized treatment plan.
One of the SmileDirectClub orthodontists, will review your 3D image, all photos, and medical history to prescribe and manage your custom aligner treatment plan. We use state-of-the-art aligner innovations, including Smart Sculpt™ for precision planning and ComfortSense™ to move your teeth gradually. Choose a "wear schedule" that works for you and your busy lifestyle – 22 hours per day or ten continuous hours only at night.
Get your aligners and begin your journey.
SmileDirectClub will create your personalized aligners and ship them to you all at once. You'll have common virtual Smile Check-ins™ and 24/7 access to the orthodontic care team – all overseen by your prescribing doctor – so there is no need for mandatory in-office visits. Start seeing results in as little as 60 days.
SmileDirectClub Lifetime Smile Guarantee
They guarantee your smile for life:
If your orthodontist determines our aligners are not a good fit for you, SmileDirectClub will refund the cost of your impression kit.
If you're unhappy with your treatment within the first 30 days, we'll refund your cost 100%.
If your treatment needs an aligner touch-up, it's free.
See full details at SmileDirectClub.com/guarantee.
Contact SmileDirectClub Today!
Contact SmileDirectClub today to schedule an appointment for in-house records and photos with Ernest J. Mantini, DMD & Rocco M. Mantini, DMD. You can contact one of our dental offices at at (814) 479-4525 (Davidsville) or (814) 536-4804 (Johnstown). We service SmileDirectClub patients from Davidsville, Johnstown, Somerset, Ebensburg, Portage, PA and many surrounding areas.
Follow our practice today on Facebook and Instagram!
Ernest J. Mantini, DMD & Rocco M. Mantini, DMD
Davidsville Dental Office:
316 N Main St
Davidsville, PA 15928
Phone: (814) 479-4525
Johnstown Dental Office:
571 Cypress Ave
Johnstown, PA 15902
Phone: (814) 536-4804
Colgate® Optic White® Teeth Whitening
Appointment Request
"*" indicates required fields