Smile Makeover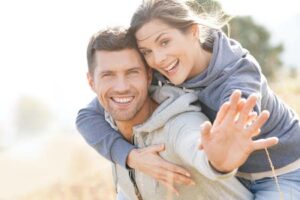 We all know that your smile is one of the first things that others notice when they meet you and can play a prominent role in the impression you make. The many benefits of a dazzling, radiant smile can't be emphasized enough. A stunning smile can increase your self-confidence and take years off your appearance, helping you put forth the best version of yourself. To create the proper smile makeover plan to achieve your aesthetic goals, you need to schedule a smile makeover consultation with our dental team at Ernest J. Mantini, DMD & Rocco M. Mantini.
To schedule at our cosmetic dentistry office, call our dental team at (814) 479-4525 (Davidsville) or (814) 536-4804 (Johnstown) to book your complimentary consultation. Drs. Ernest and Rocco Mantini treat patients for smile makeovers from Davidsville, Johnstown, Somerset, Ebensburg, Portage, and throughout Pennsylvania.
Luckily, the beautiful smile of your dreams is right at your fingertips. Dr. Mantini can perform a smile makeover to correct multiple cosmetic imperfections, giving you a dazzling smile that complements the rest of your attributes.
What Is A Smile Makeover?
A smile makeover refers to multiple cosmetic dentistry procedures designed to provide the beautiful smile you desire. Dr. Mantini customizes each smile makeover to address your individual needs and goals. In addition, Dr. Mantini may recommend a few procedures to complete a full mouth reconstruction.
What Can A Smile Makeover Improve?
A smile makeover can improve a wide variety of common cosmetic dental issues, including:
Cracked or chipped teeth

Stained or discolored teeth

Worn-down teeth

Crooked teeth

Uneven gum line

Gaps between teeth
Who Is A Great Candidate For A Smile Makeover?
No one has a perfect smile. Most people could benefit from a smile makeover. Dr. Mantini doesn't have a menu of items that are a part of every makeover. Each smile makeover depends on how you want your smile to look. Potential candidates need to keep in mind that smile makeovers are cosmetic treatments. Your oral health needs to be in good shape to have these treatments. Dr. Mantini's smile makeovers involve various cosmetic treatments to your smile. Some serious oral health issues such as tooth decay, missing multiple teeth, and gum disease have to be dealt with before other procedures begin. Those issues don't preclude you from having the various treatments of a smile makeover but need to be dealt with first.
What Will My Smile Makeover Involve?
Dr. Mantini always strives to create a smile that achieves balance and harmony with the rest of your features. Depending on your facial appearance, skin tone, and condition of your teeth and gums, Dr. Mantini may suggest one or more treatments to address your goals. These may include:
Teeth whitening

Porcelain veneers

Dental implants

Invisalign®

Dental bonding

Laser gum recontouring
What Do I Do To Maintain The Results Of My Smile Makeover?
The best way to maintain your new and improved smile and your oral health, in general, is to be active in your home hygiene. Excellent oral health means brushing twice daily for two full minutes using a soft toothbrush. In addition to brushing, Dr. Mantini advises that you floss once daily. Flossing removes most plaque and food particles from between your teeth and gums to keep your teeth in optimal health.
One way is to give up red wine, raspberries, and coffee to maintain your whitened teeth, but that's no fun! So instead, a better idea is to come back in for a quick Optic White Teeth Whitening in-office whitening treatment to get off new stains after a year or so.
The other vital part of maintaining optimal oral health is to be diligent about keeping your twice-yearly professional cleanings and exams with Dr. Mantini and the team. By coming in every six months, we can stay ahead of tartar build-up in your usual spots before it accumulates enough to begin to move under your gums. Also, we can spot problems such as tooth decay when they are minor problems and fix them early.
Contact Drs. Ernest and Rocco Mantini Today!
Contact Ernest J. Mantini, DMD & Rocco M. Mantini, DMD today at (814) 479-4525 (Davidsville) or (814) 536-4804 (Johnstown) to schedule a personalized dental consult to discuss the best course of treatment for your smile. We treat patients for smile makeovers from Davidsville, Johnstown, Somerset, Ebensburg, Portage, PA and many surrounding areas.
Follow our practice today on Facebook and Instagram! 
Ernest J. Mantini, DMD & Rocco M. Mantini, DMD
Davidsville Dental Office:
316 N Main St
Davidsville, PA 15928
Phone: (814) 479-4525
Johnstown Dental Office:
571 Cypress Ave
Johnstown, PA 15902
Phone: (814) 536-4804
Colgate® Optic White® Teeth Whitening
Appointment Request
"*" indicates required fields