Ear Pain From TMJ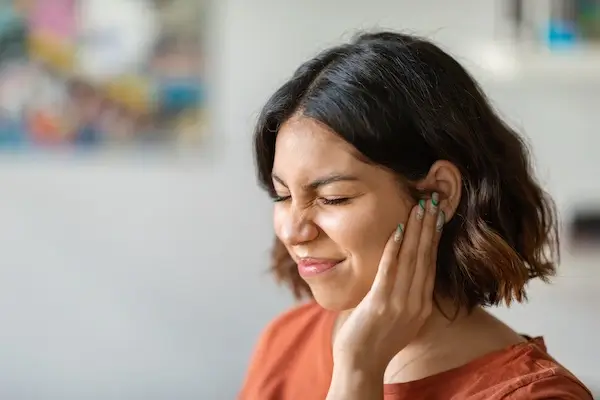 One of the leading symptoms of temporomandibular joint (TMJ) disorders is ear pain. It is one of the more commonly reported symptoms. Your temporomandibular joint connects to many of the muscles found in the maxillofacial region, and as a result, a problem with your TMJ can cause pain across your face. Fortunately, experts like Dr. Ernest Mantini can provide TMJ disorder treatment, thus providing lasting relief.
Symptoms Of Ear Pain From TMJ
The maxillofacial region, which includes the temporomandibular joints, is extremely complex and closely interconnected. Just think about the many different facial expressions you can make and how you can move your jaw and mouth. The complex system of muscles, joints, and other tissues of the maxillofacial region makes all this possible. You can click here to learn about the basics of your TMJ and how it functions.
This complexity also means TMJ disorders (TMD) can cause pain and other facial complications. Including ear pain since your ears are less than half an inch from your temporomandibular joints.
Symptoms of ear pain from TMJ disorder might be a dull, constant irritation or a sharp, searing pain. Your pain may get worse with jaw movement, although not always. Inflammation and swelling due to temporomandibular joint disorder can spread to the ear causing ear pain. In addition, straining the muscles connected to the temporomandibular joints can result in ear discomfort, tension headaches, and pain behind the eyes.
You can manage pain in your ears and elsewhere by addressing the TMJ disorder. If your ear pain results from a TMJ disorder, treatments that target only the ear, or ear infections, may be ineffective.
Causes Of Ear Pain From TMJ
Inflammation In The TMJ
As with any joint in the human body, when the temporomandibular joint is overused, injured, or afflicted with a chronic condition such as osteoarthritis, it and the muscles around it can become inflamed. Inflammation is the immune system's response to an irritant. Although the inflammation originates in the temporomandibular joint, it can spread to soft tissue and muscles surrounding the problem area, including the ear.
Swelling In The TMJ
Swelling and inflammation typically go hand-in-hand, and blood flow to the affected area increases with inflammation present. This swelling can result in fluid buildup inside the temporomandibular joint and surrounding tissues. This buildup causes swelling, seen by an increase in the size or a change in the shape of the problem area.
Overuse / Pressure On The TMJ
You use the temporomandibular joint to talk, eat, drink, yawn, and when you open your mouth to breathe or sigh. Overuse and subtle muscle spasms caused by teeth grinding (bruxism), clenching, and repetitive actions such as chewing gum put extra pressure on the TMJ. This additional pressure may result in inflammation and swelling. Pain and tenderness in the temporomandibular joint due to overuse can radiate to surrounding tissues, including the ears.
Stress
Being under stress can cause you to clench or grind your teeth, putting extra strain and pressure on your TMJs. These actions can cause stress-induced TMJ disorder.